It has no title, and it occupies no grand place of honor at Munich's Alte Pinakothek, where it's just one painting hung among many, and many larger, works in an undistinguished second-floor gallery. But Albrecht Dürer's self-portrait from 1500 would likely stop you dead in your tracks even if it did not play an important role in art history: It is a captivating, lush painting with a mysterious air that practically dares you to stop looking at it. No compendium of self-portraiture would be complete without it. In his book "The Greatest Works of Art in Western Civilization," Thomas Hoving, the controversial former director of the Metropolitan Museum of Art (whose eye is unassailable even if his provocations are not), called the picture "the single most arrogant, annoying and gorgeous portrait ever created."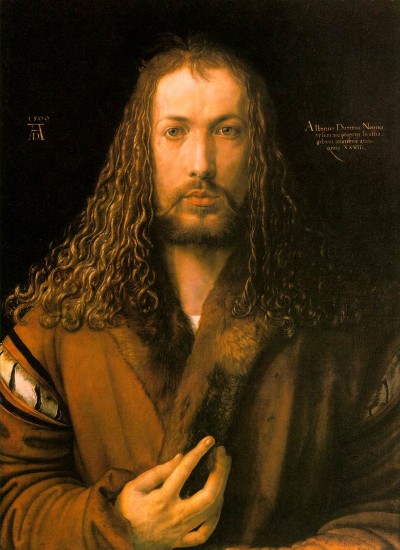 Before Dürer, born in 1471, if artists depicted themselves at all, they kept their images anonymous. Egyptian artists, for example, drew themselves as background characters at least as early as 1400 B.C. By the end of the Middle Ages, artists had begun to show themselves as witnesses or subsidiary characters, perhaps as a bystander saint; occasionally, they moved to the foreground -- as in 1433, when Jan van Eyck is thought to have painted himself in "Portrait of a Man in a Turban" but true to past practice did not label, or sell, the work as a self-portrait.
Then along came cocky young Dürer, who first drew himself at age 13. With each portrayal that followed, he showed himself gaining in stature and elegance. In a 1493 painting, clearly labeled as a self-portrait, he wears a red, tassled cap and refined, somewhat aspirational clothing and holds a few flowers. In 1498, he has grown more assured, more natural, more genteel: He poses beside a window, turned slightly to his audience, in garments trimmed with gold lace.
In 1500, a bolder-still Dürer made his stunner: This time, Dürer faces front -- a rarity at the time -- and he stares directly, intensely at the viewer. His face, slightly elongated, is symmetrical; his long curly hair tumbles down onto a rich, velvety brown cloak, trimmed in fur. His right hand, Dürer's creative hand, extends upward, as if it may be about to gesture, perhaps give a blessing. The light falls unevenly on him, also highlighting his right side and enhancing the painting's realism. To his left, Dürer inscribed the painting: "Thus I, Albrecht Dürer from Nuremburg, painted myself with indelible colors at the age of 28 years."
To viewers of his era, the image is unmistakably Christ-like. Both confident and self-conscious, sensuous and spiritual, Dürer's work was destined to become an icon.
Durer accomplished several things in this picture. On one level, he portrayed the belief that God had literally created man in his likeness. More cheekily, at a time when artists were considered to be simply artisans, like goldsmiths or weavers, Dürer suggested that his artistry was a gift from his Creator, thus lifting it out of the realm of craft onto the plane of genius. He reinforced that idea with his choice of clothing, wearing a nobleman's coat at a time when people followed strict dress codes that signaled their station in life. Further, he added a new self-revelatory genre to the artist's repertoire -- virtually every artist since Dürer has made at least one self-portrait at one time or another.
Dürer would probably not be surprised -- he saw himself as a visionary. The third child of 18, he was born to a goldsmith who had emigrated from Hungary and married into a prosperous German family. He displayed artistic talent early on and trained in his father's workshop before being apprenticed to Nuremburg's leading painter. When he made this self-portrait, he was already well-traveled, having journeyed through Germany, Switzerland and Italy. Though always an innovator, Dürer studied and was influenced by the rules of proportion, perspective and harmony propounded by the Italian Renaissance masters. His precise, brilliantly detailed woodcuts and engravings in particular are feasts for the eyes -- among the best being "Apocalypse," "Melancholia 1," "The Knight, Death, and the Devil" and "St. Jerome in His Study." They, and paintings like "Adam and Eve," made him the most celebrated artist of his time.
Dürer left behind many letters and diaries, but he apparently never wrote a word about his 1500 self-portrait. Martin Schawe, curator for Early German and Netherlandish Painting at the Alte Pinokothek, told me in an interview that he believes Dürer painted it for himself and to show to his artist friends, not for the public, "because it was so unusual." He never sold it, but kept it in his home until it became the property, under unclear circumstances but possibly as a gift from Dürer's wife, of Nuremburg's City Hall. It remained there until 1805, when it was purchased by Munich's Pinakothek.
As befits an icon, the self-portrait has been analyzed many times, perhaps over-analyzed. Dr. Schawe dismisses many myths about the painting. The idea that one can see crosses in the reflection of windows in Dürer's eyes, for example -- well, sometimes a window is just a window. Or consider the notion that the painting's harmonious proportions are related to Dürer's age at the time and the year 1500, which was not only celebrated as a Jubilee year for the Catholic Church (of which Dürer was a member), but also was feared as a potential apocalypse. "All nonsense," Dr. Schawe says.
There is even a dispute over the translation of the inscription, where the adjective describing "colors" has been variously translated as "incredible" or "lasting," as well as "eternal" and "indelible," both of which reinforce the religious nature of the picture. Art books tend to favor "indelible," Dr. Schawe prefers "characteristic," and the Alte Pinokothek's own catalog uses "lasting."
What seems absolutely indisputable, however, is that Dürer is the greatest artist of the Northern Renaissance, not least because of this beautiful self-portrait.